History of the foundation
Village in the North of Thailand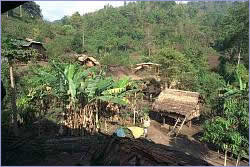 The 15 first children in Ban Doi Roifan 1 (1993)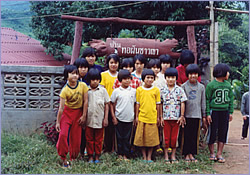 the 150 actual children in Ban Doi Roifan 2 (2003)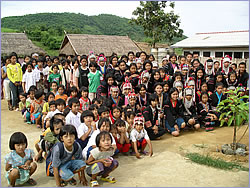 Children are abducted, sold, beaten, tortured, locked in brothels for the sexual pleasure of perverted depraved men. Mr. Theerapol Veerawat, a Thai lawyer, has spent years fighting against this abomination and for the respect of children's rights. He initiated a rescue and rehabilitation program that has been since 1992 completed by our prevention program.
In 1993 BUAKHAO White LOTUS foundation is born in Geneva. Its aim is to support a children sexual exploitation prevention program in the Thai Chiang Rai region situated in the North close to the Birman border.
15 little girls were selected to take part in this program. They lived in villages far from school and were in danger of being sent to town to be prostituted. Their family life was precarious (misery, drugs, deceased parent or in jail, beaten, abused etc.) the program was to protect and educate them.
At last in a secure environment where the children had support, help, and love; their scholastic achievements surpassed our wildest hopes.
Little by little rescued children entered this program ; rehabilitation needing a good environment the waiting list became so long that a second house had to be opened and the number of children was 165.
In 1998-99 the Centers were overcrowded, it became impossible to take in newcomers, so a piece of land was bought and the houses brought together under the name Ban Doi Roifan 2.
In 2001 we established a link with the Sathira Dhammasathan Center of Bangkok to help abused young girls psychologically
As a result of our June 2003 gala diner we were able to create an Apprentice Center as an addition to our program. Today 150 children are supported by the Buakhao White Lotus Foundation.

© 2003-2004 - Buakhao
White Lotus Foundation.