Marie-Christianne BRODBECK,
Secretary and Treasurer

Mariam BURGENER,
In charge of sponsorships
Comité d'Honneur
Princesse Catherine Aga Khan,
Marraine

Madame Yoko Ono
Marraine

Lady Rose Boribalburiphand,


Comtesse Setsuko Klossowski

C. Sursock-Rangsit et C. Nickbarte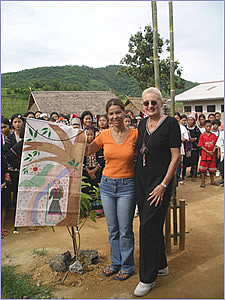 For their security we cannot show you pictures of the persons who rescue these children from slave labor and sexual exploitation.
For the same reasons we cannot give you the address of the Center where the rescued children are kept, nursed and rehabilitated.
We wish hereby to underline the courage and the perseverance of the coordinators who for years have endangered their lives to fight for children's rights.
© 2003-2004 - Buakhao
White Lotus Foundation.